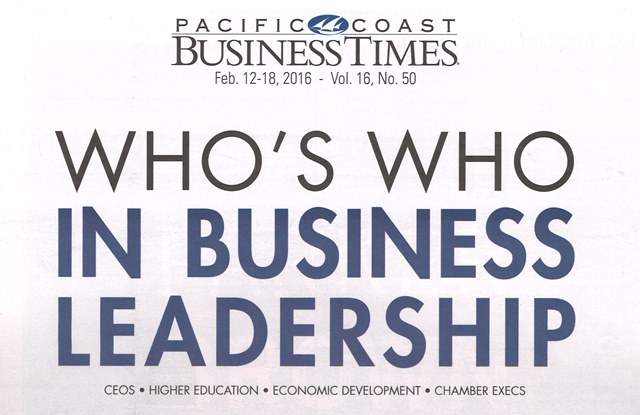 The Pacific Coast Business Times named BPW Managing Partner, Scott Hadley, as one of the 2016 Who's Who in Business Leadership. This award acknowledges top executives in the tri-counties.
Scott joined Bartlett, Pringle & Wolf, LLP in 1997. In addition to being the firm's Managing Partner, he also leads the Consulting Services Group and the firm's Professional Services Practice.
Prior to joining the firm, he served mid-sized organizations to publicly-held enterprises in various industries as a senior auditor and consultant with KPMG. Scott also has tremendous experience in private practice, providing him an appreciation for the entrepreneurial spirit as well as the challenges faced by growing businesses. Scott's rare blend of technical knowledge and accounting expertise has led him to specialize in designing accounting systems and business processes.
The Consulting Services Group implements and supports Microsoft Dynamics GP, the leading accounting and ERP solution for mid-sized businesses. Having served a variety of business clients on the Central Coast for many years, the BPW consulting team has become known nationally for their expertise in core financial solutions for financial institutions. Scott is one of the team's Microsoft Certified Professionals, a Certified Master of Dynamics GP and takes an active role in providing superior service to clients.
His professional experience is augmented by his high level community involvement. Scott served as the 2013 Chair of The Chamber of the Santa Barbara Region and currently serves on their board. Additionally, Scott is actively involved with the highly-anticipated MOXI – The Wolf Museum of Exploration and Innovation, serving as Treasurer on the Executive Committee and Finance Committee.
Scott is a graduate of University of California, Santa Barbara and holds a Bachelor of Arts degree in Business Economics with emphases in Accounting and Computer Science. His postgraduate professional education has included software development, database design and certifications in various business and accounting software packages.