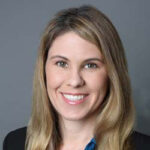 BPW is happy to announce the continued growth of the firm by welcoming Tracey Solomon to the partner group! Tracey has been a leader in the firm's audit department since 2003 and brings a seasoned background in planning, supervising and executing audit and accounting engagements.
Tracey enjoys working with a diverse group of clients including, but not limited to, start-up companies, governmental entities and both for-profit and not-for-profit organizations. She specializes in employee benefit plan audits, special district audits and accounting consulting. Tracey is also actively involved with closely-held companies in a range of industries, such as technology and service.

Tracey currently serves as a member of the American Institute of Certified Public Accountants (AICPA) and the California Society of CPAs (CalCPA).

As a graduate from the University of California, Santa Barbara (UCSB), Tracey received her Bachelor of Arts in Business Economics with an emphasis in Accounting and a minor in Global Peace and Security.

Tracey is a native of Santa Barbara and enjoys being outdoors and spending time with her family.