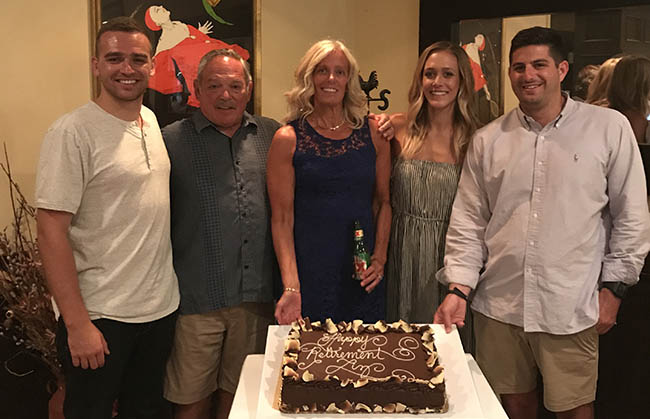 A heartfelt tribute and our best wishes go out to retiring BPW Partner Elizabeth Boscacci. Liz has left an indelible mark on the firm, and we extend our sincerest thanks for her contributions, talent and influence over the last 40 years.
The BPW team gathered, along with her family, in July to celebrate Liz's tenure with the firm and look back at the many fond memories we all had working with her. See pictures below.
Managing Partner Scott Hadley offered an entertaining tribute in the form of rhyme.
Forty years is a long, long time. It's just long enough to warrant a rhyme.
Liz has spun up many a good roast, but tonight I simply offer a toast.
We're here to honor our dear friend Liz, who's celebrating four decades in the biz.
The things I've learned from Liz are vast, especially when it comes to the past.
In audit or tax, Liz has always been willing…to work with new staff, to be prompt with her billing.
At lunch I've learned Liz can be quite picky. Jalapenos are okay now, but olives are still icky.
From the Sportsman to Chapala Liz did endure. At the Sportsman, she may have even been immature.
Don't worry Liz, not a roast I still assure. On Chapala, I've always known you as demure.
Our recent and ongoing shuffle of space, led me to realize with surprise on my face
That Liz has remained in the very same room, since the building was built…and that's been many a moon!
She's consistent, good natured, a heck of a gal.
Always a fan of employee morale.
Outside the office, Liz is quite a jock. If I tried to swim with her, I'd sink like a rock.
Keep up the good work, Liz. Keep staying fit. You're an inspiration and very legit.
To try to live up to her creative gift, I'm going to need a right brain lift.
When it comes to a roast, a satire or skit, Liz has shown she really knows her (stuff).
Liz leaves behind a large footprint to follow.
Please join me in a toast, and enjoy a good swallow.
Thank you, Liz, for so many a year.
That you'll enjoy your retirement, I have not a fear.
Bridget Foreman, the firm's partner in charge of the tax department, offered highlights and fun facts from Liz's resume when she applied to BPW, which included her objective: "Staff Accountant for public accounting firm. Advancement within firm." We can all agree that she more than met her goal.
Bridget also reminisced on Liz's time with the firm and the role model that she has been to us all.
"Liz has been an inspiration to me, as well as to many others, in that she has paved the way for us to see that you can have it all," Bridget said. "Liz was BPW's first part-time partner, maintaining an alternative schedule so that she could also focus on being a stellar mom, wife and daughter, as well as carving out some time for herself. This was unheard of then, and it is still rare today. Liz has demonstrated that this can be very successful."
From her in-depth tax and audit knowledge to her clever Halloween costumes and tax season skits, she will be missed dearly by both team members and clients alike. We thank her for all that she's done with BPW. She's left an impression that will be ingrained in the firm forever, and we wish her only the best in her new endeavor!