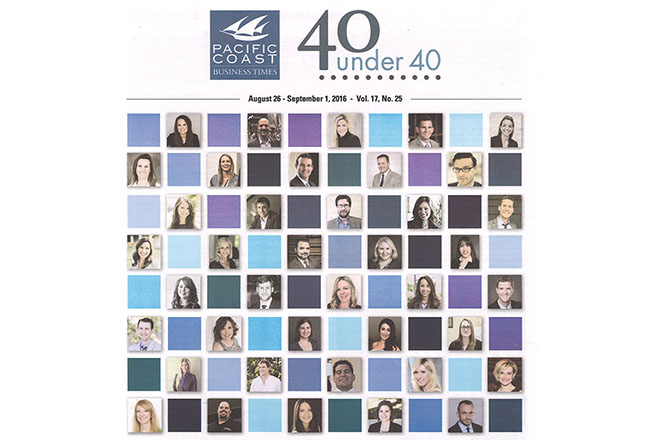 Congratulations to Nina Pisani for being named one of the 2016 40 Under 40 by the Pacific Coast Business Times! Nina joined BPW in 2007 and is a Supervisor in the firm's Audit Department. This award recognizes up-and-coming leaders in the Tri-Counties, and all of us at BPW congratulate Nina on this well-deserved recognition.
Over the past nine years, Nina has gained technical expertise in a variety of audit engagements, such as employee benefit plans, and has worked with a range of clients in industries that include closely-held businesses, governmental entities and nonprofits. As a Supervisor, Nina also trains new staff members in the audit department and helps them grow and develop in their roles. She has a highly-technical skill set that is an asset to the firm, her colleagues and clients.
"Not only is Nina extremely professional and represents the firm to the highest level, clients truly enjoy working with her. She is extremely loyal to her clients, and through this, has developed long-lasting relationships with them," said John Britton, BPW Audit Partner.
With a strong background in fraud prevention, Nina often shares best practices both internally and community wide. She is a valuable member of the firm's Professional Services Practice and helps the team gain a deeper understanding of fraud deterrence. Nina also has presented locally to the Institute of Management Accountants on fraud risk factors and preventative measures for businesses.
Originally from Solvang, California, Nina attended San Diego State University and received a Bachelor of Science in Business Administration with an emphasis in Accounting. Additionally, she is a member of the California Society of CPAs (CalCPA). In her free time, Nina plays on BPW's softball team and enjoys hiking, golfing and kayaking.