The Pacific Coast Business Times recently named BPW Partners Scott Hadley and Bridget Foreman as two of the 2014 Who's Who in Professional Services. To view an excerpt of the full issue, please click here.
Managing Partner Scott Hadley has led Bartlett, Pringle & Wolf, LLP's (BPW) Consulting Services Group since 1997. Prior to joining the firm, he served mid-sized organizations to publicly held enterprises in various industries as a senior auditor and consultant with KPMG. Scott also has tremendous experience in private practice, providing him an appreciation for the entrepreneurial spirit as well as the challenges faced by growing businesses. Scott's rare blend of technical knowledge and accounting expertise has led him to specialize in designing accounting systems and business processes.
The Consulting Services Group implements and supports Microsoft Dynamics GP, the leading accounting and ERP solution for mid-sized businesses. Having served a variety of business clients on the Central Coast for many years, the BPW consulting team has become known nationally for their expertise in core financial solutions for financial institutions. Scott is one of the team's Microsoft Certified Professionals, a Certified Master of Dynamics GP and takes an active role in providing superior service to clients.
Scott is a graduate of University of California, Santa Barbara and holds a Bachelor of Arts degree in Business Economics with emphases in Accounting and Computer Science. His postgraduate professional education has included software development, database design and certifications in various business and accounting software packages.
With family roots in Santa Barbara County, Scott has lived in Southern California his whole life. He enjoys travel, reading and spending time
with his wife and three children in the Santa Ynez Valley, where the family resides.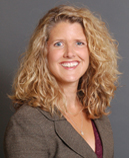 Bridget Foreman joined Bartlett, Pringle & Wolf, LLP in 2003, becoming a partner in 2009. Her specialties include closely held businesses and individual taxation for high net worth individuals.
A significant part of Bridget's business practice focuses on partnership taxation and entity structure. She is accomplished in evaluating complex financial transactions, including acquisitions, purchase price allocations and eventual dispositions.
Bridget integrates tax planning, compliance and consulting services for her clients as well as orchestrates the efforts of their other advisors, including investment managers, attorneys, bankers and insurance agents.
During the course of her career, Bridget spent six years working within the hospitality market sector at a four-star hotel and resort in various capacities ranging from credit manager to leading the internal audit department. In addition, she is well versed in the financial services issues faced by franchisees of national restaurant chains. This related work experience has proved invaluable for her clientele.
Bridget received her Bachelor of Arts degrees in Business Economics and German Studies from the University of California, Santa Barbara.
Today, a mother of two, Bridget's top personal priority is spending quality time with her family. When she manages to find a quiet moment, Bridget enjoys reading and relaxing on the beach. She also values community involvement and works closely with CALM and local theatre arts programs.