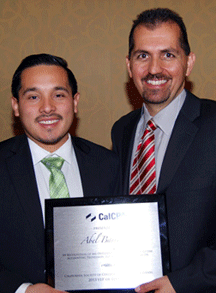 Congratulations to Abel Barragan on being named…twice! Abel was named Young and Emerging Professional by the Channel Counties Chapter of the California Society of Certified Public Accountants (CalCPA).
He didn't stop there. He went all the way to Sacramento to be honored by CalCPA on January 23rd for the Statewide YEP of the Year Award!
CalCPA's March/April issue published a two-page Q&A interview with Abel discussing topics from how he started in the industry and who helped him along the way to the challenges and opportunities he faces as he grows in his career and the profession. You can read his inspiring interview here.
Abel is a Senior Accountant in the firm's tax department. He has quickly excelled at BPW and, in just a couple of years, has become one of the most accomplished staff members. He shows dedication to his career by constantly improving his technical skills by attending off-site trainings and even teaching firm-wide internal trainings.
Outside of BPW, Abel is chair of CalCPA's Young and Emerging Professionals, Channel Counties Chapter. He is also an avid soccer fan and enjoys managing, coaching and playing for his soccer team in Oxnard, as well as volunteering as a coach for a local youth league soccer team.
Abel is pictured above on the left with CalCPA Board Chair, Rich Simitian, to his right.