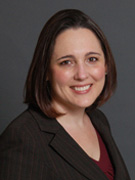 Congratulations to Ellyn Cole, who was recently named one of the 40 Under 40 by the Pacific Coast Business Times! This award recognizes up-and-coming business and community leaders within the Tri-Counties. Ellyn is a Senior Manager in BPW's Tax Department and has been with the firm since 2006.
Ellyn's primary focus lies in tax planning and compliance, with a specialty in foreign tax issues. She is also a member of the firm's estate planning group and has worked with a wide array of entities from high net worth individuals to corporations.
Ellyn has also been the lead on growing BPW's practice in international taxation and serves as the primary service provider to some of our largest clients. Her ability to translate complex and often confusing tax law into language that is usable and digestible is often commended and appreciated. Ellyn is also a mentor to several of our less tenured staff, helping them succeed in their current roles and direct their growth in the areas that excite them the most.
Ellyn earned her Bachelor of Science in Accounting and her Master's degree in Business Taxation from the University of Southern California. She is a member of the California Society of Certified Public Accountants (CalCPA) and serves on the board's local chapter. Additionally, she is a member of the American Institute of Certified Public Accountants (AICPA).