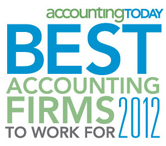 Santa Barbara, CA – We are very excited to announce that for the second time Bartlett, Pringle & Wolf, LLP has been named one of the Best Accounting Firms to Work For by Accounting Today magazine!
BPW is the only firm on the Central Coast to make the list and one of only 10 firms in California to be honored with this distinction.
The award program is designed to identify, recognize and honor the best places of employment in the accounting industry, benefiting the nation's economy, its workforce and businesses.
The Best Accounting Firms to Work For list is made up of 100 companies. Accounting firms across the country participated in the two-part survey, which consisted of an employee survey to measure the employee experience and an evaluation of the firm's workplace policies, practices, philosophy, systems and demographics. The combined scores determined the top firms.
At BPW, we understand that people are the core of our business–our team members, community partners and, most of all, our clients.
As a team, we uphold the highest respect for one another, treating each other fairly and with dignity, while cultivating an enriching and positive environment that instills a sense of pride and winning spirit. And when our team is happy, our clients are happy.